Books
In Borrowed Houses
a true story of love and faith amidst war in Lebanon
by Frances Fuller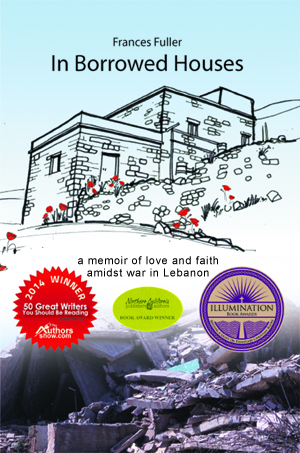 In Lebanon, a country fragmented by war, the Fullers are house-hunting, because they have a job to do— publishing Christian literature in the Arabic language. The house they find is mostly a heap of rocks, Frances thinks, but Wayne has visions of turning it into a beautiful and comfortable home. Meanwhile the Syrian occupation, an Israeli invasion, the bombing of the American Marines, artillery battles, car bombs and kidnappings impact their lives.
Told in short episodes, Fuller's book reveals the alienation, confusion and courage of civilians in civil war, introducing to the reader a variety of real people with whom the author interacts: editors, salesmen, neighbors, refugees, soldiers, missionaries, lawyers, shepherds, artists, students. With these people she works, studies, plays games, prays, laughs and cries, all to the accompaniment of gunfire. Together these small stories tell what war is like for civilians caught on a battlefield, and they create the impression of the Lebanese as a fun-loving, witty, patient and resilient people. They also compose, not a political history, but a historical document of a time and a place.
At the same time these stories advance Fullers' personal story of struggling to build a publishing house, to fulfill her commitments to God and to stand by the people she loves. In the process of relating her experiences, Fuller lets the reader in on personal fears, memorable dreams, mental conflicts, some opinions on such issues as the ethics of war, and ways that she grew spiritually in times of stress. In two short segments that vary from the story format, she shares her "Twenty Rules for Surviving Civil War" and her observations on small-country and big-country ways of thinking.
The theme of borrowed houses runs through all of this, creating mystery and suspense. Wayne turns the stone stable into a beautiful and comfortable home that becomes a haven, the publishing work prospers, while powerful external forces threaten both their mission and the country they love.
"…a well written book full of compassion about a journey full of heartache and grace…a captivating story…"
A Judge, 22nd Annual Writer's Digest Self-Published Book Awards
…a profound spiritual memoir…"
Aliki Barnstone, professor of English and Creative Writing at the University of Missouri
"…full of remarkable perceptiveness and genuine hope."
Colin Chapman, lecturer in Islamic Studies at the Near East School of Theology, Beirut; author of Whose Promised Land?